- Slotted Brass Saw Backs -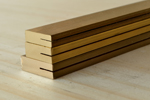 Whether you are building a small dovetail saw or a tenon saw suitable for small timber frames, you will find a suitable back below.
Available in lengths ranging from nine to eighteen inches. The edges come square, but are easily chamfered, rounded, or shaped with files to simulate the look of a folded back.
Slots are accurately milled to ensure a good fit that requires a minimum of truing or adjustment after assembly. Blades can be held in the back with epoxy, Loctite 243 (medium or blue threadlocker), rivets or screws, or by squeezing the slot closed (in which case the blade is held in place by friction, much like a folded spine).
All backs are made from brass.
Custom sizes available on request. Please contact me for a quote.

Resources: Making your own saw, while a very rewarding project, can be daunting. While there is no substitute for actually making one, many of us are not inclined to jump right into things. These resources will help you get started on your saw.
This series of blog posts covers the construction of a saw from start to finish.
A variety of saw handle templates are available as downloadable pdf's. I will fill out the entire range as they are completed.

Other saw parts: If you need other parts for your saw, I also sell split nut saw bolts, truncated cone saw bolts, and toothed backsaw blades. Or buy a slotted back saw kit and save a few dollars.

Made in the USA.