Layout Tools for Sale
Tools may be ordered using the PayPal shopping cart, or by sending a check or money order. For more ordering information, please see Contact & FAQ.
To go to the home page of any tool, simply click on the thumbnail image or title.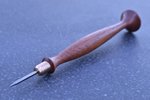 The Scrawl is a light duty scratch awl/scribe. The carbide shank is extremely durable, and can be used to mark wood, plastics, or metals. Combined with a robust ferrule and premium hardwood handle, this is truly a lifetime tool.
Want to make your very own carbide scribe? This kit includes the same ferrule and carbide shank used in my Scrawls. Choose between stainless steel and bronze. Small and large sizes are available.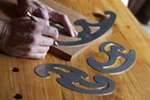 Made by Sterling Tool Works, this set of three french curves is made for full-scale work. Made from 1/16" thick stainless steel, these curves are a great way to add some grace to your rectilinear work.